Duplex DC-24 II - Carbon Line Bronze anodized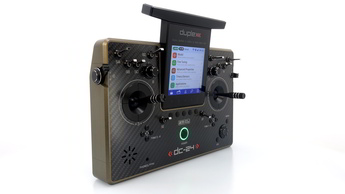 Art. No.:
JDEX-TDC24II-CLBA

Description
The next generation of the DC-24 II transmitter series with a unibody design offers a redesigned and even lighter frame for better user comfort. Now in addition to supporting Wi-Fi and Bluetooth connection to smartphones. A very powerful processor with a large memory enables high-quality texture settings and the use of a higher resolution on a completely new and larger display. The display already has improved graphics that help the user with better orientation in the menu. Available from March 2023.
Main features:
4" LCD with high backlight for sunlight readability

Bluetooth connectivity for headphones

Online telemetry via Bluetooth for smartphones

Wi-Fi module

Application for displaying telemetry on smartphones Android/iOS

900 MHz NG backup system

New graphical design of the user interface (menu)

Weight saving

One connector for outputs - PPM and Phone

USB C connector for charging and connection with PC/MAC

Full compatibility with Duplex system and previous JETI transmitters

New color pallete of the frame
Available from March 2023.
Parameters
| | |
| --- | --- |
| Weight [g] | 1400 |
| Transmitter Aluminum Case | Yes |
| Transmitter Battery Pack (mAh) | 6200 |
| Backlit LCD | 4" 480x480 px Color |
| Memory, SD Card | 8 GB |
| Gimbal Hall Sensors/Vibration | Yes/Yes |
| Stick Resolution | 4096 |
| Transmitter Frame | Aluminum |
| Gimbals & Buttons | Aluminum |
| Number of antenas 2.4GHz/900MHz | 4/1 |
| RF modules 2.4GHz/900MHz | 2/1 NG |
| Control Inputs (Stick/Switch/Knob) | 18 (up to 20) |
| Dimensions [mm] | 230x270x40 |
| Output Power - 2.4GHz [mW] | 100 |
| Operational temperature [°C] | - 10 to 60 |
| Channels | 24 |
| Control Inputs (Stick/Switch/Knob) | 18 |
| Backup Module 900MHz | Yes |
| Flight Modes | 10 |
| Free Mixes | 30 |
| Data Graphs | Yes |
| Audio Player | Yes |
| Logical Switches | 24 |
| Number of Remote Commands | 24 |
| Servo Sequencer | 10 |
| Timers | 10 |
| Displayed Telemetry Values | 40 |
| Sound on Events | 40 |
| Alarms | 40 |
| Vibration Alarms | Yes |
| Voice Output | Yes |
| MP3 | Yes |
| Microphone | Yes |
| Gyro Settings | 3 |
| Servo Balancer | Yes |
| Function Curves | Yes |
| Throttle Limiter (heli) | Yes |
| Variometer | Yes |
| Flight Mode Trim | Yes |
| Data Stream Logging | 80 |
| Telemetry Controls | 64 |
| Voice Commands | 16 |
| Lua Apps | 10 |
| Ditex Servo Telemetry | 16 |
| Double Path | Yes |
| Accelerometer | No |
| Online telemetry via Bluetooth for smartphones | Yes |
| Bluetooth connectivity for headphones | Yes |
| Wi-Fi module | Yes |